Alien Inspector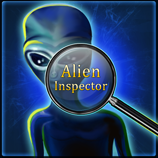 Scan your friends and see if people around you are actually aliens when you download Alien Inspector, the exciting new photo after-effects app for the iPhone. With Alien Inspector, playful users take on the role of E.T. Inspector and see if people around them are actually extra-terrestrials hiding under normal human clothes!
Alien Inspector is designed to entertain users by offering the illusion of an 'alien x-ray' within the app that sees through the layers of anyone's clothes – or other more complex potential full-body human disguises -- right on their mobile device!
The user simply chooses an existing person's photo from their device or takes a photo of someone new and Alien Inspector creates a photo-realistic area within each selected picture that illustrates what the alien being hiding inside the photographed person looks like!
Alien Inspector is an inventive yet unobtrusive app that is at once creative and highly entertaining. Designed for simplicity and ease of use this app has features to take photos from directly within the app and access existing photo albums from within the app as well. Ready to see who's a just a friend and who's an alien in disguise? Snap a photo and find out right now with Alien Inspector!
App Features:

In-application camera
Access to device photo albums without leaving application
Through In App Purchase you can see much more Aliens!